"A place in the Sun-Live" Exhibition at Manchester.
We are pleased to inform you that Property Management Abruzzo will be present at the "A place in the Sun – Live" Exhibition. It will take place in the city of Manchester, from March 16 to 18.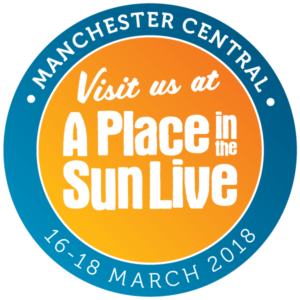 "A Place in the Sun-Live is the official exhibition of the Channel 4 TV show and the largest overseas property exhibition in Europe – the perfect place to help guide you through the buying process and find your ideal property abroad.
At the show there' ll be over 150 exhibitors from all over the world ready to showcase their collection of beautiful overseas homes. Spain will be well represented with agents from all over the mainland, the Canaries and Balearic Islands, and there will be lots of agents from France, Italy, Portugal, Florida and many more!
Alongside the property agents there' ll be the all-important professional services with expert advice on legal, financial, tax and currency. Industry experts will be on-hand to talk you through the buying process and answer any questions you have." (*)
We would like to have your presence at the exhibition, and we offer you the opportunity to have free tickets, entering this link where you can request them comfortably.
Some photos of our stand are available here.
Hope see you there.
Best regards,
Dott. Geom. Sergio A. Morales, MBA
CEO Property Management Abruzzo
(*) Information from the website https://www.aplaceinthesun.com/exhibitions